Midwest Floral Design School
In Platteville, Wisconsin, the Midwest Floral Design School is located in a rural midwest city with overwhelming friendliness. Platteville is filled with authentic Wisconsin heritage and tremendous talent.
School Address
30 North Fourth Street
Platteville, WI 53818
Phone: (608) 348–3491
1-800-510-4160


Hotels/Motels
Country Inn by Carlson
630 S. Water St.
Platteville, WI 53818
(608) 348 –7373

Mound View Inn
1755 Hwy. 151
Platteville, WI 53818
(608) 348–9518

Super 8 Motel/Platteville Inn
100 Hwy. 80 & 81 South
Platteville, WI 53818
1–800–800–80000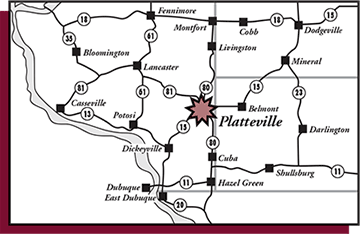 The objective at Midwest Floral Design School is to provide an inspirational introduction to the floral industry.
The Midwest Floral Design School students will learn to understand the essential principles and elements used in professional floral design. Midwest Floral Design School is a facility dedicated to providing the finest floral design education to the students, introducing many new design styles, products, and techniques. The hands-on classes provide innovative opportunities to learn and understand the field of floral design. The instructor is actively involved with her own businesses, bringing her expertise of owning and operating retail flower shops to the course she teaches.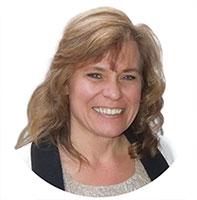 About Lori Erschen-Bahr
Along with her husband owns and manages Erschen's Florist located on Main Streets in Platteville and Dickeyville, Wisconsin, Lori is the instructor at Midwest Floral Design School located in Platteville, Wisconsin. Lori has many years of experience in the floral industry. Her love for the floral artistry has been rewarding. Lori has taught basic floral design classes through the Continuing Adult Education Program through Fennimore Vocational Technical School, Fennimore, Wisconsin. She has shared many ideas with other florists as a head designer for floral trade shows located at several Wholesaler's facilities. Her designs have inspired and won competitions throughout the United States. Lori is enthusiastic about sharing her knowledge with students who attend Midwest Design School. Aside from her career, she has a wonderful family of four children and is happily married. Her husband and children play an important part to Lori's business and life. Erschen's Florist is a member of the Platteville Regional Chamber and Lori served as a board member. She is the recipient of the 2013 Community Service Arhur J. Virtue Award for exceptional initiative to enhance and promote the Platteville Community. Erschen's Florist also supports Main Street events.
Curriculum Outline
First Week
The student's first week will begin with care and handling of fresh cut flowers. Introduction to the principles and elements used in floral design. Students will apply these principles in hands-on workshops covering bow making, bud vases, round and oblong centerpieces, L-pattern, standard triangles, and more. Students will explore the color wheel. Learn plant care and give decorative treatments to plants.
Second Week
In week two, students learn shop operations including pricing, merchandising, and customer relations. Students will have class discussion on sales and salesmanship. They will learn of the wire services available, how they operate, and benefit flower shops. Also in week two, students will obtain a working knowledge of basic corsage designs and how to wear them. This will include wrist, shoulder, hairpieces, and boutonnieres.
Third Week
Students will be introduced to and receive hands-on experience doing a sympathy wreath, a casket spray, and tributes appropriate for funerals. Current sympathy trends will be discussed. Students will enjoy making wedding bouquets, such as nosegays, cascades, crescents, and free-form styles. There will be class discussion on various types of weddings.
Benefits
Hands-on Training. A proven method of training - planned to prepare the student quickly and thoroughly for a successful career in the floral industry.
Lessons demonstrated. Drawings, diagrams, and demonstrations to help make learning more interesting and the subject material easy to understand. Qualified instructor with knowlede of the principles and elements of floral design. The instructor is actively involved in her retail shops.
Class Size. Our classes are so personalized, students feel like they have a "private tutor". The atmosphere is comfortable and pleasant. Limited to ten students.
High Quality. We constantly evaluate the course content and support materials involved, as we know quality and professionalism are very important.
Admission Requirements
A high school diploma is not necessary, however basic skills in the English language are necessary. Students must have the necessary energy to keep up with the mental and physical demands. They must also have the time the course requires to complete. Floral design requires tremendous manual dexterity. Handicapped students are accepted if they have adequate use of their hands. Special help and attention is given to handicapped students.
Format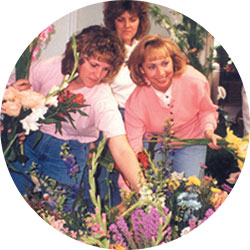 Classes include instruction in floral design, care and handling techniques, as well as business procedures. Student participation includes class discussions and critiques with the instructor. We furnish all supplies and accessories used in class. Students will need their own knife, scissors, and wire cutters. Cameras are encouraged in class. Video taping or recording is not permitted.
School Hours and Holidays
General class hours are Monday through Friday from 2:00 p.m. to 6:00 p.m. There will be no classes on holidays. Classes are held at 30 North Fourth Street, Platteville, Wisconsin. Our phone number: 1-800-510-4160 or (608) 348-3491.
Tuition
Tuition is an investment in your future. A registration fee of $50.00 is required and is deducted from the $750.00 tuition to cover all supplies. Classes are filled on a first come basis. Completed application forms must be received before the class begins. Last minute applications will be considered if there is room.
Refund Policy
If the course is discontinued, all money will be refunded. Upon a written notice of withdrawal received after the beginning of the second session of the class, MFDS is entitled to retain (a) the registration fee of $50.00 and (b) a percentage of the tuition, $750.00.
Cancellation Policy
MFDS must be notified in writing if the student wishes to cancel their enrollment. Student and/or parent needs to notify the school within seven days after date of signing the registration form. The school shall promptly refund in full the registration or enrollment fee and all advanced tuition fees
collected. Such refund shall be made no later than thirty days after cancellation.
Employment Outcome
Upon completion of the Basic Floral Design course, students will receive a certificate suitable for framing. This will qualify the student for an entry-level position in a retail floral shop. MFDS will assist students in the resources available within the floral industry, but no employment can be guaranteed. However, we will have a bulletin provided of florists that have positions available.
Conduct and Absences
Students are expected to conduct themselves in a mature business like manner. It is the student's responsibility to make up work in the event of an absence. If there is a long period of absence, the student is requested to make up the absence in a later class, before they receive their certificate of completion.