Tulip Garden

Nothing says "Spring is here!" better than tulips. Arranged with a variety of filler flowers. Gauranteed to brighten your day! Perfect for a birthday, thank you gift, get well, or just to let someone know you're thinking of them!



Spring Fancy

Pretty pink carnations, alstromeria, and fresh yellow roses make a happy ode to spring fancies.




Easter Lily


Daisy Crazy
Bright, Cheerful, Multi-colored daisies in a vase. Guaranteed to brighten up your day!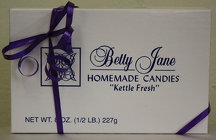 1/2 lb. Deluxe Assorted Creme Filled Chocolates
1/2 lb. box of Deluxe Assorted Creme Filled Chocolates by Betty Jane Homemade Candies